The HERO TO ZERO sustainability programme aims to protect the environment the HERO SÜDTIROL DOLOMITES takes place in. It also contributes to achieving the UN SDGs (Sustainable Development Goals) to protect the planet. The initiatives are inspired by the 17 United Nations Goals and the Union Cycliste Internationale (UCI) sustainability guidelines used when organising their events.
HERO. SUSTAINABILITY. ESG
The HERO Südtirol Dolomites Organising Committee looked to the UCI sustainability guidelines for cycling events and decided to focus on 14 key topics across three different areas: the environment, society, and governance. These three areas encompass many different elements which are required to organise a sports event.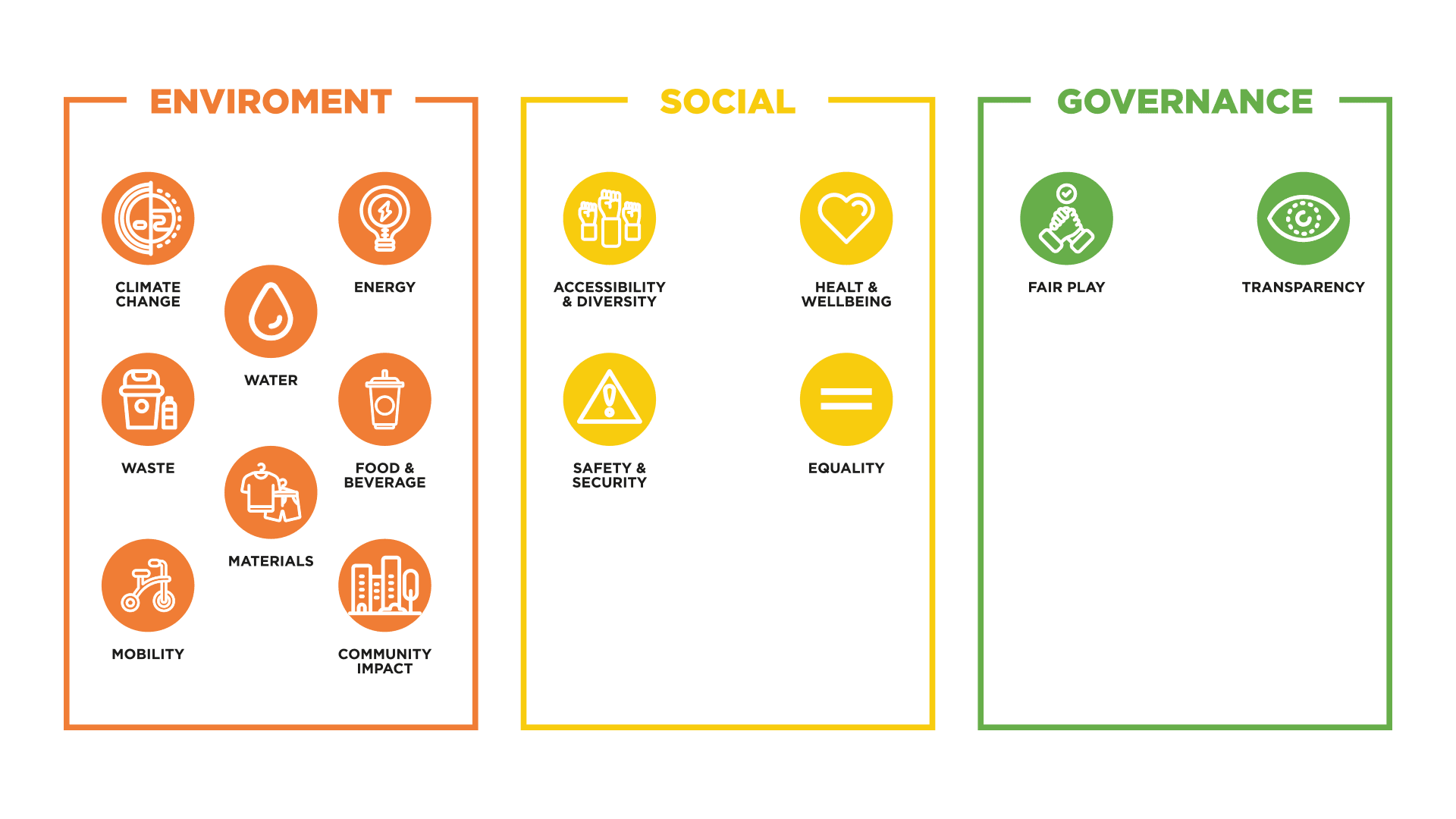 THE ENVIRONMENT
[SDG 13]
Sustainability and the environment go hand in hand. The HERO Südtirol Dolomites outlined the following key topics to protect our planet.
Exclusively use renewable energy (green)
Choosing local suppliers to reduce transport emissions
Encouraging the use of local products and providing for alternative catering solutions
Reducing waste and water consumption
Using existing buildings rather than temporary ones
Selecting partners and sponsor with a sustainability strategy who share our same sustainability values
Selecting partner hotels which work to reduce their carbon footprint
Raising awareness among teams and visitors from nearby countries to use trains rather than planes or cars
Promoting the use of e-vehicles or e-bikes among volunteers
RESOURCE MANAGEMENT
WASTE MANAGEMENT
[SDG 12]
The aim of this holistic approach is to reduce and recycle waste as much as possible and raise awareness about the matter among participants and locals alike.
FOOD AND BEVERAGE
[SDG 2,3]
We collaborate with third party catering companies to guarantee participants, volunteers, and everyone else can enjoy healthy and quality food during the event. Suppliers are encouraged to use local products, reduce waste, and provide reusable cups.
MATERIALS
[SDG 12]
We aim to reduce our need for materials by, for example, renting materials and using sustainable or reusable materials.
GREEN MOBILITY
[SDG 3,13]
Mobility is key if want to reduce C02 emissions. We have studied campaigns which encourage participants, fans, third parties, and volunteers to opt for smart and green mobility solutions to ensure the event is the least impactful for local communities.
SOCIETY
[SDG 10]
Sustainability goes hand in hand with the environment and society. We aim to improve the event's accessibility and inclusivity, fight gender discrimination, and increase awareness about health and safety among the local communities.
GOVERNANCE
[SDG 10,16]